Groundbreaking Held for New DVUSD Elementary School | Education
3 min read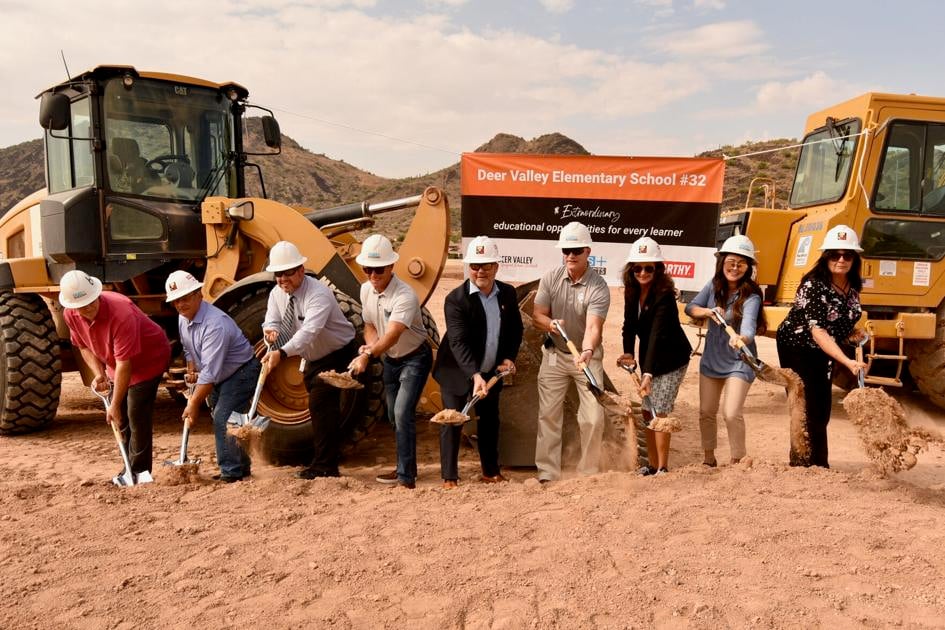 Deer Valley Unified School District (DVUSD) broke ground on Elementary School #32 in the Stetson Valley development on Sept. 17. The groundbreaking ceremony took place at the school site at 5757 Inspiration Mountain Parkway near 57th Avenue and Happy Valley Road.
The new school opens August 2022 and will initially serve K–6 students, with the infrastructure in place for future expansion to a K–8 campus. The school's temporary name is Elementary School #32. In the coming months, DVUSD will hire a principal, and that person will coordinate the selection process to determine a school name, colors and mascot.
DVUSD Governing Board president Ann O'Brien welcomed attendees, saying "This is a historic day. Whenever we break ground and celebrate a new school, we are really celebrating the extraordinary Deer Valley family. As we expand our family, we increase our excellence throughout the community."
Superintendent Dr. Curtis Finch also spoke, mentioning the semiconductor boom that's bringing rapid growth of business and housing development to North Phoenix.
"This school is in a perfect location for the expansion that's already begun in our district. I have no doubt that the neighborhood will fill this school quickly, and it will be an extraordinary school from the start," said Finch.
Students from nearby Sandra Day O'Connor High School, where Elementary #32 students will move on to graduate, participated in the ceremony: the school's drumline and mascot welcomed attendees, JROTC presented the colors, a select choir sang the National Anthem and Alma Mater, and the Student Body president Nathan Edlebeck shared his thoughts on the day.
"I am confident that this new school will continue to strive towards Deer Valley's vision of graduating lifelong learners who will successfully compete, lead, and positively impact the world," said Edlebeck. "I am excited for Elementary 32 to be built and to have O'Connor receive yet another school into our OHS family." Edelbeck said his excitement doubled when he learned that his own family members, two young cousins, will attend the new school.
The Elementary #32 construction team includes SPS+ Architects and McCarthy Building Companies. When complete, the school will have capacity for 965 students, and be home to unique features like a media center and maker space.
The project includes an administration building, multi-purpose building, and three classroom buildings. Site development will include shade structures, baseball and soccer fields, bus routing, and parking. The site is approximately 14 acres with 72,742 square feet of building footprint. 
The process to develop the school's attendance boundary is underway. Boundary maps are posted on the new school's website at www.dvusd.org/Elementary32. Community members are invited to see the posted maps and provide feedback to a dedicated e-mail ([email protected]) through Nov. 3. There is also a board meeting Oct. 13 that is open to the public; visit the website for more details.
For more information about the school and future attendance boundary, visit www.dvusd.org/elementary32.